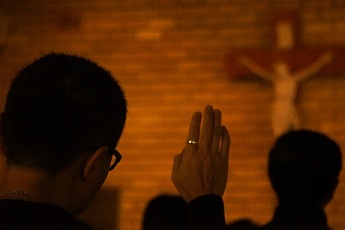 The Temple of the Holy Spirit (THS) prayer group is a Sydney, Australia, based charismatic prayer group established since September 1996. The aim of the prayer group is to bring the living Jesus to other young people around the world through the power of the Holy Spirit.
By coming together every Friday night, praising and worshiping our Lord, we continue to develop an intimate relationship with Jesus and a fellowship with other brothers and sisters in Christ. This enables us to keep spiritual life growing and hence, reach out to the ends of the earth to spread God's love.
On the first Friday of each month we celebrate Sacred Heart Mass.
On other Fridays we have praise and worship, followed by Bible study for the adults and small groups for kids with spirit filled activities.
Theology of the body
We are delighted to invite you to a "Theology of the Body" one day course given by key note international speaker from Arizona, Katrina Zeno.
Theology of the Body by Pope John Paul II, facilitates a Trinitarian understanding of the human person and invites every human person to flourish as a confident and beloved son or daughter of God.
This course is suitable for Sunday school's teachers, youth leaders, young adults and parents in the community.
Lunch (& light morning tea and afternoon tea) provided.
Registration essential, please contact Simon Liu, or online at this link.
Date: Saturday 18/01/202
Time: 9:00am to 3:00pm
Location: Asiana Centre, Ashfield